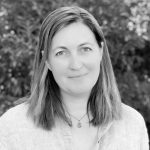 Dear Colleagues,
As I write to you, my heart is breaking. We had been grappling with the disruption of a pandemic of unknown severity and duration. Now we must reckon with deep and historical racism and pain that none of us can ignore.
Like you, the Foundation team is profoundly sobered by this pandemic-turned-economic crisis and its yet unknown – and deeply unequal – toll on lives and livelihoods. We see the harm it will inflict on schools and other institutions that serve the most vulnerable youth and communities we have prioritized for decades. It has been said by others but bears repeating for its truth: We are all in the same storm, but we are not all in the same boat. It's on all of us now to mitigate the damage from two profound ruptures.  We must face and act upon the reality that communities of color are experiencing greater losses during this time, in addition to facing unspeakable racism, violence and trauma. We are heartbroken by the murders of Black people including George Floyd, Breonna Taylor, and Ahmaud Arbery and other recent racially motivated incidents, including the aggression against Christian Cooper. These layered tragedies bring both pain and new responsibility.
As this unprecedented school year draws to an unsettling finish, the Stuart team is listening to grantees, community voices, educators, policymakers and colleagues from philanthropy about what the summer and coming school year may bring. Amid uncertainty, we've been buoyed to see grantees move swiftly to support the most marginalized populations through direct service, creativity, elevation of student voice, and advocacy for smart and equitable decision-making. Other partners have provided essential and timely information as we all scramble to make sense of an ever-evolving context, including an unacceptable digital divide. Still others have dug in on key research questions that will help us understand the scope and differential impacts of the pandemic and adjust our compass as we seek to make the best investments for systems, schools and students. All of your incredible work will contribute to better days ahead.
As California grapples with safely and equitably reopening schools, we will continue to support partners who are pushing the system to renew the promise of public education, who are working to disrupt longstanding inequities, and who endeavor to make schools places that build strong relationships between educators and students, foster intellectual curiosity and center human connection. Arundhati Roy described the choices ahead powerfully: "Historically, pandemics have forced humans to break with the past and imagine their world anew. This one is no different. It is a portal, a gateway between one world and the next. We can choose to walk through it, dragging the carcasses of our prejudice and hatred, our avarice, our data banks and dead ideas, our dead rivers and smoky skies behind us. Or we can walk through lightly, with little luggage, ready to imagine another world. And ready to fight for it."
Foundation Updates
In March, our Board of Directors directed $2 million to rapid response grantmaking for urgent needs. We have since made 18 grants to support key recovery efforts and under-resourced students and communities of color from Los Angeles to inland and rural California, and to statewide rapid response funds in California and Washington State. Learn more about Phase 1 of our rapid response grants here.
The Foundation continues to offer grantees flexibility to modify grant purpose, scope, activities and timelines, and we have repurposed project funding to general support for all grantees requesting it. The Foundation team will continue to listen as we seek new ways to support our partners in the months ahead, always with priority for efforts to address inequities made worse by COVID-19.  Internally, we are working to break down silos that have separated our grantmaking in the past, moving toward greater integration and intersections across priorities as we make new investments.
I also bring news of transitions at the Foundation. We're delighted to welcome two new senior leaders: Susan Kagehiro as Director of Programs, and Kenji Treanor as Director of Strategy, Effectiveness & Learning. Susan was most recently a program officer at the Walter & Elise Haas Fund, with prior experience as a senior leader in the San Francisco Unified School District and as a researcher and policy analyst at MDRC and MPR Associates. Kenji is a recognized leader in philanthropy who is dedicated to improving public education for underserved students, having previously served in a range of grantmaker roles at the Sobrato Philanthropies and at the James Irvine Foundation.
Lastly, we extend gratitude and fond farewells to two colleagues who are pursuing exciting new phases of their careers: Avi Khullar and Karla Ruiz. We are deeply grateful to Avi for six years of strong and collegial work on Foundation strategy and child welfare/foster youth grantmaking. We'll also miss Karla as she joins the Sobrato Philanthropies' English Learner Initiative. In her four years at the Foundation, Karla made many contributions and brought innovative ideas to our team, including leading capacity building grantmaking and supporting advocates and parent/family engagement partners.
We are guided by the belief that all of us need to double down to improve opportunities and futures for young people – work that is more important now than ever. On behalf of the Foundation Board and staff, we thank you and wish you, your teams and families peace and good health.
In partnership,
Sophie Fanelli
President