We are committed to supporting meaningful learning opportunities for California's adolescents, while strengthening an equitable school system that supports them.
Throughout its history, the Foundation has understood that adolescent learning and development extends beyond academics.  We believe that the public schools that serve youth underpin vibrant communities, inclusive economies and a functioning democracy.  These interconnected commitments – to helping adolescents thrive, to equity and to public education – guide our support of robust, just and well-resourced schools that value every young person.
Thriving Adolescents
We believe that young people can thrive if they receive a high-quality, well-rounded education that responds to their interests, makes room for self-expression and self-determination, and supports post-secondary transitions to college, careers and civic life.  This kind of education only happens within systems of schools that intentionally design for it, are structured for collaboration and shared ownership, and have the necessary resources for high-quality learning environments and continuous improvement. 
We are intent on transforming the structure and experience of high school to center meaningful learning that is relevant, aligned with life experiences and interests, and connected to future hopes and goals. We are also focused on post-secondary transitions to college, career and participation in civic life and our democracy.
Improving Systems for Equity
The Foundation has a long history of work on state systems change and remains focused on the conditions and attributes that will enable California to deliver on the promise of public education systems. 
As we act on our commitment to support adolescent growth, agency and belonging in equitable and racially-just systems of public education, schools must be adequately resourced, with the provision of greater support to those with greater needs. We will partner with researchers and technical assistance providers who build knowledge and capacity; community and policy advocates who influence and shape priorities and policies and help hold systems accountable; and networks that bridge research, policy and practice and support effective implementation.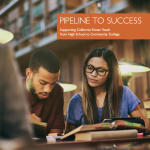 The Foundation has a long history in child welfare grantmaking resulting in policy and practice reforms and improved outcomes for youth in foster care. Within our overall strategy, we will continue to fund organizations that support and serve foster youth in K-16 systems to improve their educational experiences and outcomes and ensure that policy makers prioritize their welfare.
Learn more about some of our recent foster youth education grants.
In addition to the Foundation's grantmaking, we work to inform and amplify our work in the following ways: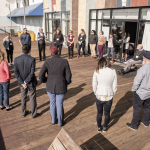 Convenings: We set tables to build productive conversations, relationships and common ground to accelerate learning and innovation.
Funder networks and partnerships: We collaborate closely with like-minded philanthropies in order to understand their work and amplify our own.
Learning visits: We spend time in schools, school districts, and the communities they serve.