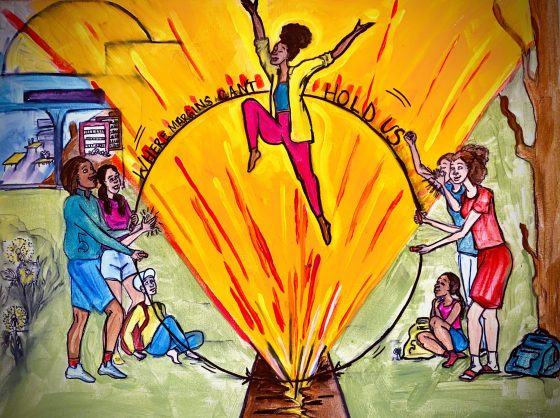 January 2022 Update
From its founding in 1985, the Stuart Foundation has worked to improve life outcomes for young people through education, with an emphasis on supporting those who are furthest from opportunity to become successful, thriving adults. We have approached this work with humility and a learning orientation as we seek lasting, transformational change in systems as complex as public schools. We also approach it with urgency in the context of a devastating pandemic and our nation's ongoing struggle to confront a legacy of racism and inequities. 
This spirit of urgency propels us into 2022 with a refined strategy informed by reflection and deep listening with our Trustees, staff, community, grantee partners and colleagues in philanthropy. As Kenji Treanor details below, the Foundation will move forward by focusing on two critical strategies: Thriving Adolescents and Improving Systems for Equity.
Adolescence is a time of remarkable growth and potential that not only deserves but demands our complete attention. Too often, adolescents – who in California are majority low-income and youth of color – encounter school and community structures where they are not empowered, seen, welcomed or engaged. Yet we know that schools and systems can be transformative for young people, accelerating academic success, creativity, agency and belonging.
California has always been a state of the future, and our people and ideas have led not just this country but the world. We honor that legacy, as we hold to our deep belief that each and every young person can thrive if they have opportunity and support. The health of our democracy depends on it. Our vision centers on vibrant, equitable, inclusive schools in which race, class, culture, or any other social factor no longer predicts success.  With a strong commitment from our Board of Trustees, we're eager to deepen our work to help adolescents and the systems that serve them not just bounce back, but leap forward toward a future that embraces both who they are and can be.
In solidarity, 
Sophie Fanelli
President 
---
Adolescents are a vibrant segment of California's population and are critical to our state's future, particularly in the diversity of their identities, lived experiences, languages, and family backgrounds. Our responsibility at the Stuart Foundation is to see, acknowledge and celebrate their gifts and boundless potential.  
Bolstered by the latest science of learning and development, we know that adolescence is not "too late." Both research and innovative programs show that young people can flourish if they have opportunities and access to relationships, ideas and support. Such rich learning and experiences only happen when adults intentionally design for it, and when schools feature collaboration among principals, teachers, and families to create the conditions for high-quality learning and connection.  Our work now focuses on: 
Thriving Adolescents: This critical developmental phase is when young people acquire the knowledge, skills and emotional responses they need to grow into adulthood. Their brains are rapidly reconfiguring as they discover and adapt to the world around them, choose their own pursuits and interests, create deeper connections with others, and develop goals that begin to shape who they are and want to be. This period represents a critical window for the Foundation and others to invest in efforts that strengthen adolescent well-being, expression and self-determination. Reflecting and integrating some of the most powerful attributes of our previous work, the Foundation will focus on transforming the experiences of high school youth with meaningful learning – academics, creativity and civics – that is relevant and builds social agency. We will also focus on healthy transitions to college, career and thriving adulthood, including full participation in our democracy. 
Improving Systems for Equity: Public education in California encompasses state, county and district systems that are connected to other adolescent-serving systems (i.e., health and welfare), all governed by local, state and federal policies. Ideally, all of these systems must communicate, be adequately resourced and prioritize the young people with the greatest needs. We will continue to support advocates to build power and hold public systems accountable, particularly around racial justice. We will increase our efforts to spread positive narratives about what students in our public schools can learn and achieve. Understanding that systems only change when relationships change, we will foster relationships and partnerships among the many leaders – in and outside the formal system, existing and emerging – with whom we can hold a shared vision for equity.   
We're grateful for the tireless work of families, parents, educators and advocates across the state who have supported so many young people through a pandemic era that remains difficult to fathom. As a team, we will continue to connect with and learn from our partners and deepen our relationships with leaders and communities. 
We enter 2022 with hope and urgency in carrying this strategy forward to help young people thrive. Please share your thoughts, ideas and energy with us as we advance this work with adolescents and the systems that serve them. 
Kenji Treanor 
Vice President, Strategy, Partnerships and Learning
---
At the Foundation 
This moment requires us to evolve as an organization and a team as we apply systems thinking to our own structures and work.  Our approach allows us to learn and respond more nimbly, be adaptive to rapidly changing dynamics and manage uncertainty.  We are streamlining our grant processes and increasing our support for general operations so that our partners have time and resources to lead.  And we continue to pursue avenues to leverage our resources and amplify the work of others, including public-private partnerships, coalitions and sharing knowledge. All of this requires deep listening and continuous improvement, which must be anchored by the voices of young people, particularly foster youth, students of color, students from low-wealth backgrounds, LGBTQ+ youth, students learning English, and the families and communities who support them.  
Last year, the Foundation partnered with more than 120 diverse and dynamic organizations and provided $15.4 million in grant support.  These accomplished grantee partners continue to navigate a time of great complexity and have succeeded in elevating the needs of youth furthest from opportunity.  Their efforts are leveraging substantial and potentially ongoing state and federal resources for community schools, other efforts to transform high schools, and for systems to address adolescents' social, emotional, academic and mental health needs in this pandemic era.  (Learn more about recent grants here.) 
As Kenji Treanor takes on greater responsibility for advancing our strategy and building key partner relationships, he assumes a new role as Vice President, Strategy, Partnerships and Learning. We also welcome two new staff members: Lillianna Torres joined us in the summer and provides administrative support for grantmaking, convening and partner engagement. Previously, she held fund development positions with several Bay Area nonprofits.  Anthony Estrada joined our accounting and finance team, providing support for operating and investment transactions. He has served as an accountant with several Bay Area companies.  The Foundation's Trustees and staff also say a bittersweet farewell to our beloved colleague Kayla Cook, who made tremendous contributions over five years on the grants management team.  Having grown from a Grants Assistant to Senior Grants Associate, we are thrilled for Kayla as she now joins a specialized consulting firm committed to equitable and collaborative philanthropy. 
Artwork by Brandie Bowen for the California Partnership for the Future of Learning