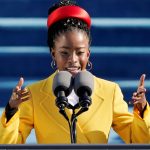 Dear Colleagues,
With last week's inauguration of the 46th American President, this dark winter was brightened by a sense of possibility and relief. With tremendous hope, we embrace this new energy from Washington, D.C., where we see partners supporting youth to recover from one of the hardest years in U.S. memory.
Nowhere was this new spirit more evident than in 22-year-old Los Angelean and first National Youth Poet Laureate Amanda Gorman, whose inaugural verse dared us to remember that change can be the birthright of every child.
As we look to recover on so many fronts – from the multiple and compounding losses of COVID-19, from raw displays of racial injustice and from a violent attack on our democracy – we are lifted by the dedication of partners whose work we have been proud to support across the state.
In Los Angeles, and with the support of the Dwight Stuart Youth Fund, these partners include WriteGirl, Get Lit-Words Ignite and the New Roads School where Ms. Gorman and many other young artists have found room to develop their creativity and learned to use their voice powerfully to support social change.
Across the state, Stuart Foundation's partners are forging ahead, engaging youth, educators, system leaders and families, tackling the urgency of the moment on multiple fronts and reimagining what a vibrant and equitable public education system could be. In a recent piece in The New York Times, Foundation grantee Jal Mehta captured the task at hand: "We often are in such a rush in school — from one class to the next, from one topic to another — that we don't remember that the fundamental job is to partner with families to raise successful human beings. The pandemic is helping many of us to think about our students in a fuller and more holistic way; we should remember that when the crisis ends."
Our shared larger vision is for education ecosystems in which all children and young adults have access to inclusive, equity-minded schools and other spaces that allow them to find their voice, develop their gifts and take flight. Such opportunities must come not by happenstance, but by an intentional design toward equity. As Ms. Gorman proclaimed, "the dawn is ours." We see opportunities to move toward equity by design especially with the diversity of voices and leaders answering the call to public service.
California holds important seats at the table in this new era, from a multi-barrier-breaking Vice President, the Speaker of the House and the HHS Secretary to the leader of the Education transition team and the San Diego Unified School District's Superintendent in a critically important role at the U.S. Department of Education. These Californians know what we know: That our children's diversity is their strength, and that their education and development has been, inequitably, derailed by this pandemic. Our collective responsibility now is to help them reroute, reconnect and rebound.
In this new year, "The Hill We Climb" will echo in our ears. We take to heart the poet's charge to "raise this wounded world into a wondrous one." At both the Stuart Foundation and the Dwight Stuart Youth Fund, we will carry it forward as a mantra.
In solidarity and partnership,
Sophie Fanelli
President, Stuart Foundation
Wendy Chang
Director, Dwight Stuart Youth Fund
The Stuart Foundation (California and Washington State) and the Dwight Stuart Youth Fund (Los Angeles) are sister foundations that collaborate and share the goals of improving life outcomes for young people through education and enrichment, with a focus on children furthest from opportunity.